Today's review is brought to you by…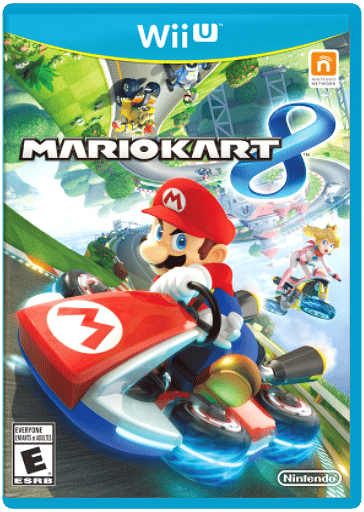 Warning: As always, my reviews WILL contain spoilers as they're crucial for thorough discussions.  However, I encourage you to read anyways.  Just because you can.
Overview: Mario Kart 8 portrays in essence what the title implies – Mario and various assortments of karts.  Classic Mario game characters battle it out through 8 cups (translating into 32 different tracks) with fireballs, shells, boomerangs, and much more to obtain 1st Place and bring home the gold!
Gameplay: Mario Kart 8's gameplay is relatively the same as previous titles.  You have your accelerator, brake/reverse, item, and drift buttons.  Easy to remember.  Players get two options as to how to steer: 1) the use of the joystick or 2) actually steering with the control.  Items continue to hold a big part in the game since a Banana Peel can stand between you and a gold trophy.  IGN compiled a nice list of the items which you can take a look if you're curious.  Nonetheless, I want to give an honorable mention to the wondrous Super Horn.  This magnificent item has the ability to destroy the fucking Spiny Shell by pulverizing it with its sound waves.  It has made my life so much better and worth living…
Mario Kart 8 also features air gliding and anti gravity. The latter not only let's you race on ceilings and walls, but also gives the opportunity to speedboost when bumping other characters or special obstacles.  Gliding and anti gravity happen automatically when reaching certain parts on each course.  The camera follows you the whole time, so don't fret thinking you'll suffer motion sickness.  The goal of the game is simple: place first to win all the gold trophies you can.
Lou-Cyo's Reaction: HOLY SHIT!  The minute I saw the intro on my screen, I knew this game was a must have.  To say the graphics are beautiful is an understatement.  Nintendo was not playing when highlighting numerous times the fact that Mario Kart 8 was the first in its saga to be in high definition.  The characters, items, courses…  The smoothness of the illustrations make the pixels seem tangible.  A treat to the pupils as you glide through the courses after exiting anti gravity zones.
You remember how 150cc was MAYBE a tad hard in previous Mario Karts?  Mario Kart 8's 150cc poses a real challenge.  If you're anal like me and need every single unlocakble in the game, prepare yourself for overwhelming emotions ranging from crippling anxiety to irrational rage when attempting to place 1st on every track on 150cc.  I cannot even count how many times I got CLOBBERED with a plethora of shells when on the LAST LAP of the LAST COURSE and SECONDS away from the damn finish line.  Thinking about it makes my skin crawl with anger…  But in a good way!  Unlocking the characters and kart parts in this game is such a treat.  I enjoyed getting the Koopalings the most. Do you remember them from Mario Bros. 3?  Apart from the blissful nostalgia these characters embody, they get a cool HD touch up!
The game features mirrored racetracks to spice things up once you have collected all golden trophies the first time around.  The online gaming options have expanded to phenomenal degrees by letting players customize tournaments.  You have control over basically everything – from the race difficulty to what items and karts are allowed.  Meaning you can have a 150cc races with only Mushrooms to be used.  Can you imagine that in any of the 2 Rainbow Roads featured in this game?  Sounds deliciously evil and fun to attempt!  I recently got to play MK8 with 3 other people and the fun never stopped.  We played for hours and the adrenaline was pumping nonstop.  Mario Kart 8 is a game that will make you come back again and again.  No matter if you're alone, online, or with friends.  I give Mario Kart 8 a 10/10.  The game is just too much fun.
Have you played Mario Kart 8?  What are your thoughts on the game?  Let me know on the comment section.  I wanna hear from you!
See you around!